You may have heard about Taiwan or at least the phrase "made in Taiwan" seen on electronic products. The country is also known as the Republic of China (ROC) so perhaps you have wondered whether this island nation is Chinese or Taiwanese. Perhaps it is both; the population is more than 95 per cent ethnic Chinese. 
It's no secret that China would love to reclaim this thinnish island strip just off its southeast coast. But for now, it remains a distinct country whose culture is a pleasing blend of Chinese and Japanese.
The landscape is flattish in the west where most of its 23 million population live, and in the eastern two-thirds, the alpine land is a hiker's paradise of beautiful forests, rocks and streams that cover the mountains like a verduous patchwork of nature's best artwork.
Perhaps the time has come to consider visiting this gentle nation with a penchant for exquisite service, bubble tea, and prolific with motorbike riders, selfie-takers and 7-Eleven shops at every turn.
And best of all, many signs and menus are in English and foreigners are made to feel very welcome. Think of Taiwan as an easy introduction to the Orient.
1. Taipei 101, Xinyi District
The best place to start is in the capital, Taipei, to visit the Taipei 101 building. Then take the super-speedy lift, the fastest in the world –  a Guinness World Record plaque stating so – which whizzes to the 89th floor in 37 seconds. There was a time when Taipei 101 had the accolade of being the tallest building on earth but lost that title seven new buildings ago. Nevertheless, it is a landmark building whose 101 levels stand tall lording it over the city.
There are five basement levels and 101 floors above ground offering high-end shopping and restaurants and finally spectacular views from its observatory at its zenith.
It was a foggy day when I visited but every now and then as the fog shifted I could make out skyscrapers and the odd smudge of colourful cheek-to-jowl rooftops. On the outskirts of the city, the lush Four Beasts Mountains – elephant, tiger, leopard and lion – can be seen rising above the clouds.
Taipei 101 is a mighty 1,670ft high and at the building's core is a massive golden Tuned Mass Damper ball and worth taking a peek at. Its job is to prevent any sway should a tornado or earthquake threaten to trash the land.
2. Chiang Kai-sheck Memorial Hall, Zhongzheng District
Being a tourist I surely had to see the changing of the guards at Chiang Kai-sheck Memorial Hall in Liberty Square. It is after all a national monument to Generalissimo Chiang Kai-shek, former President of the Republic of China. The building looks dazzling with two layers of royal blue tiled roof and bright white marble walls – colours that evoke the national emblem – amid well-tended gardens. There's 89 steps – the age the former president died – to reach the bronze doors of the 15,000 square metre hall. As if to meet and greet is a giant bronze statue of Chiang himself.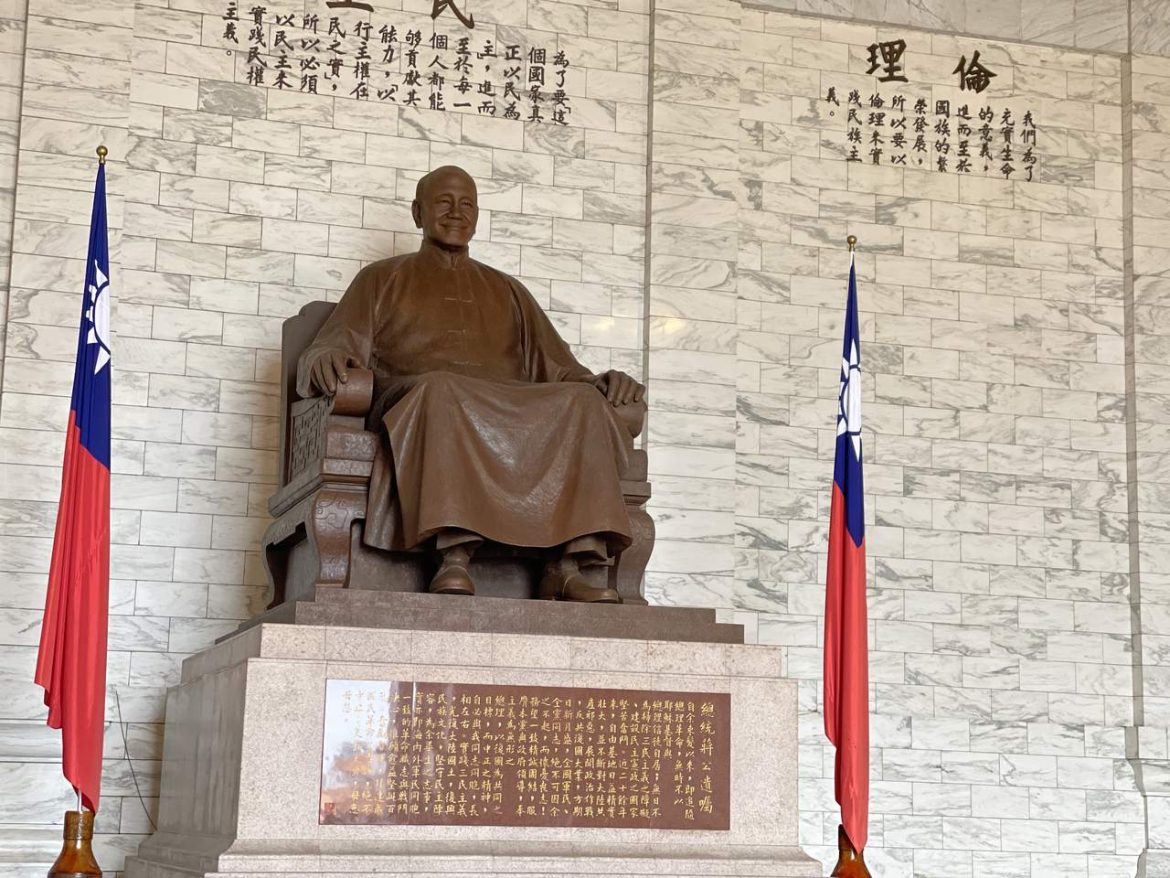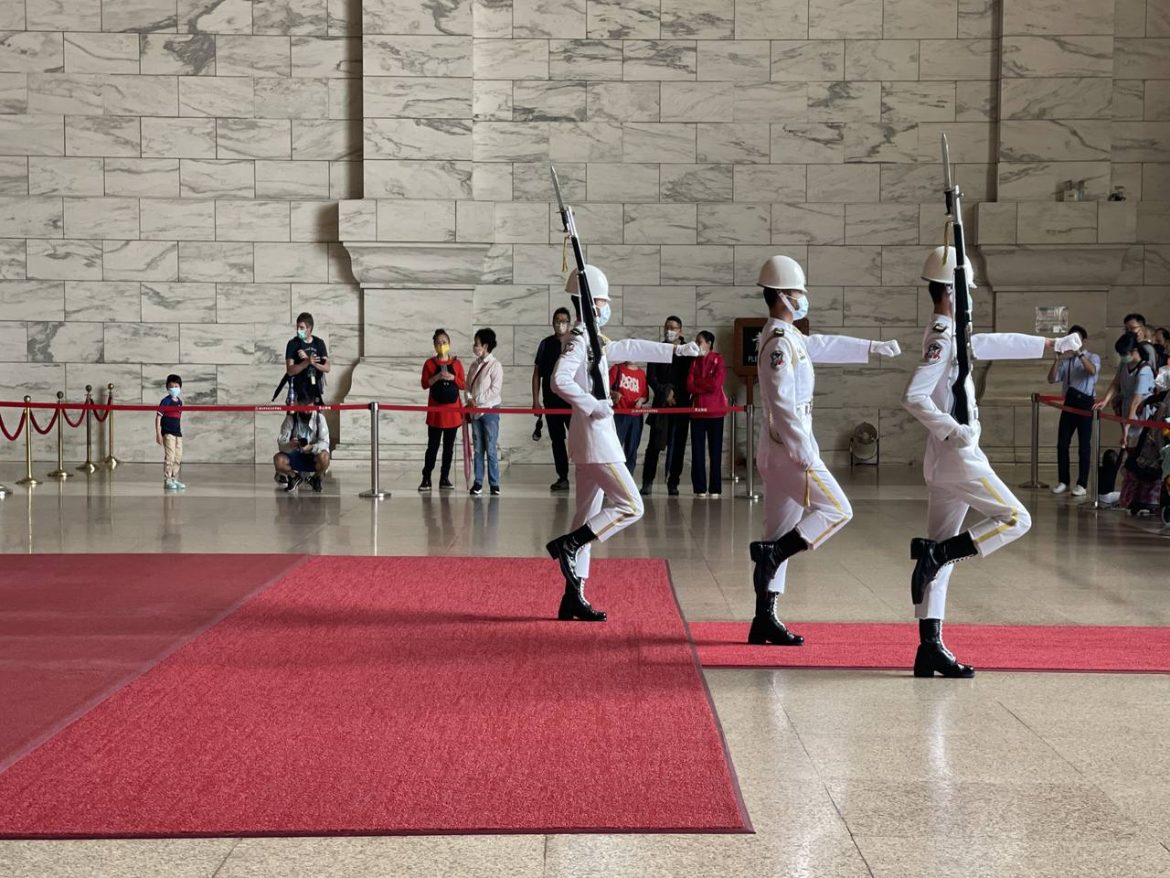 On either side is a guard, clad in white, standing tall and unmoving. Then on the hour – between 9am and 5pm – the changing of the guards' ceremony takes place. The spectacle is beautifully choreographed, compelling to watch and almost verges onto a graceful dance.
There are two other buildings that straddle the monument. On the right is the Opera House and on the left is an eminent theatre. I got lucky and watched as a dance team rehearse their routine al fresco for a show that night.
3. National Palace Museum
The National Palace Museum, a vast building in the Shillin district of Taipei is, without doubt, a world-class art gallery. It is home to 700,000 pieces of amazing Buddhist sculptures, jade artefacts, ceramics, metalworks and curios brought here from the Forbidden City in Beijing.
Collectively, they depict a history that spans 8,000 years including imperial treasures kept by generations of Emperors.  So, if you have enough stamina, allow around three hours to explore
I was told to look out for the 19th-century Qing jadeite cabbage – the shape of a Chinese cabbage head, and with a locust and insects camouflaged in its leaves. Many were queuing to have a look as folklore says it is an omen of fertility and many spent a while looking at it. For an item this auspicious my reaction was similar to the one I had when I saw  Mona Lisa in the Louvre – it's surprisingly small. I enjoyed the ceramics and the bronzes much more.
You can get a bite at the Silks Palace Restaurant within the complex which offers dishes and tableware in the shape of some the artefacts.
4. Manka Longshan Temple, Wanhua
This is a glorious temple where locals got to pray to Guanshiyin Budda and other deities. Worshipers chant in unison and the sound is almost spiritual and the fervour is tangible. It was built in 1738 and was a place of worship where early Chinese settlers could gather. Today it integrates Buddhism, Taoism and Confucian beliefs.
5. Night Markets
Not so small are the ever-popular night markets. Shilin Night Market, also in the Shillin district is the largest but there are several and most will seek one out for the experience of eating street food – not any old street food; this is noodles, stinky tofu, a beloved delicacy of the Taiwanese, dumplings, deep filled boa buns, chicken feet, squid, and other exotic animal parts. Absolutely nothing is wasted.
One rainy night, I visited the busy Lin Jiang street night market in the Da'an district. Despite the inclement weather, it was busy and I found myself immersed in an atmosphere that was thick with the chatter of people following aromas of cooking while neon lights and flashing adverts tried to catch the attention of anyone with an appetite. Who can resist?
6. Dadaocheng Area
7. Taroko Gorge – Shakadang River Trail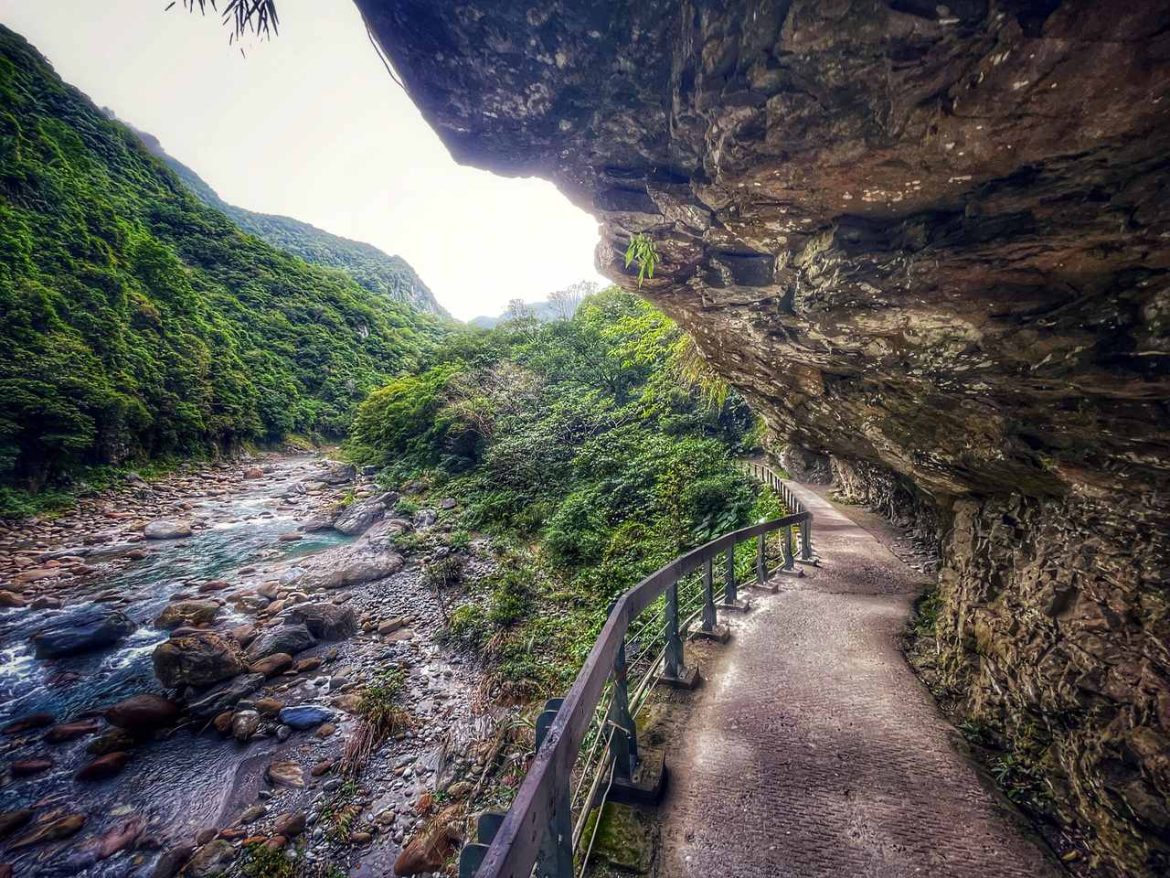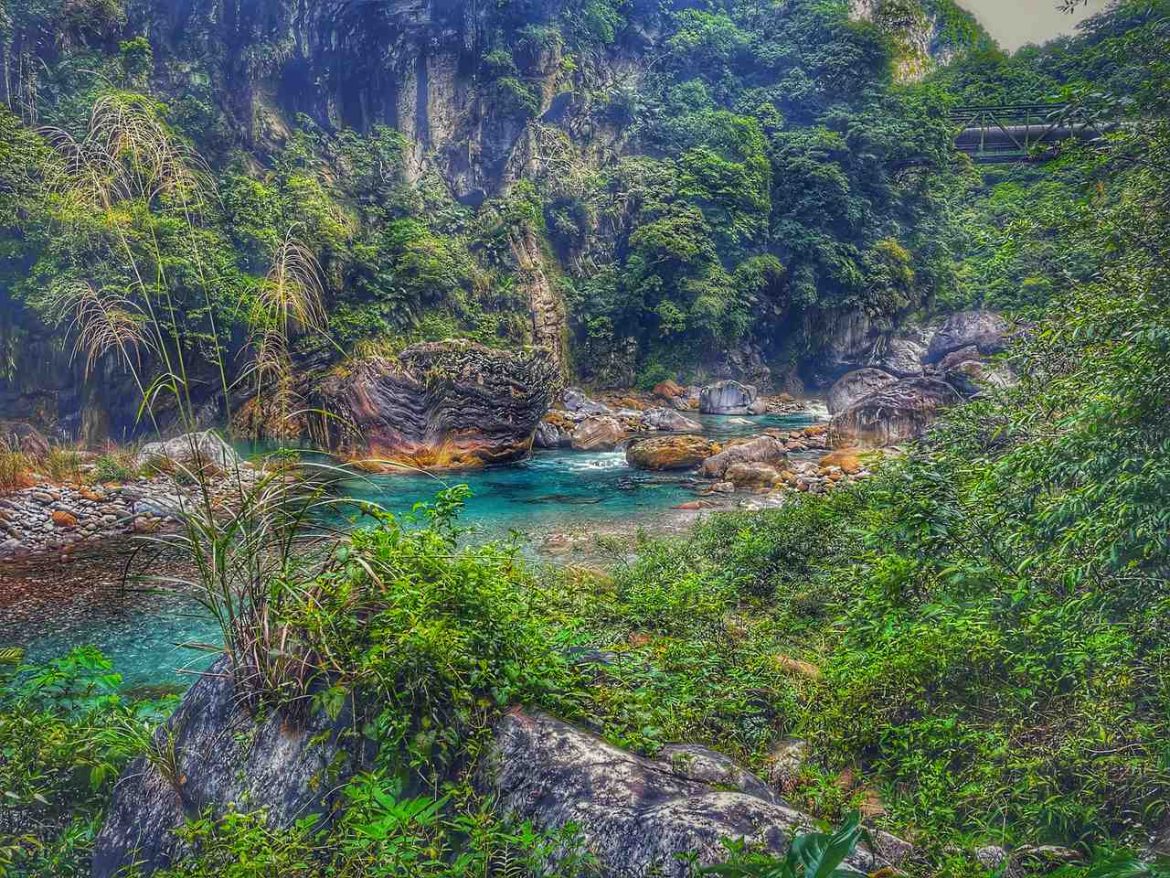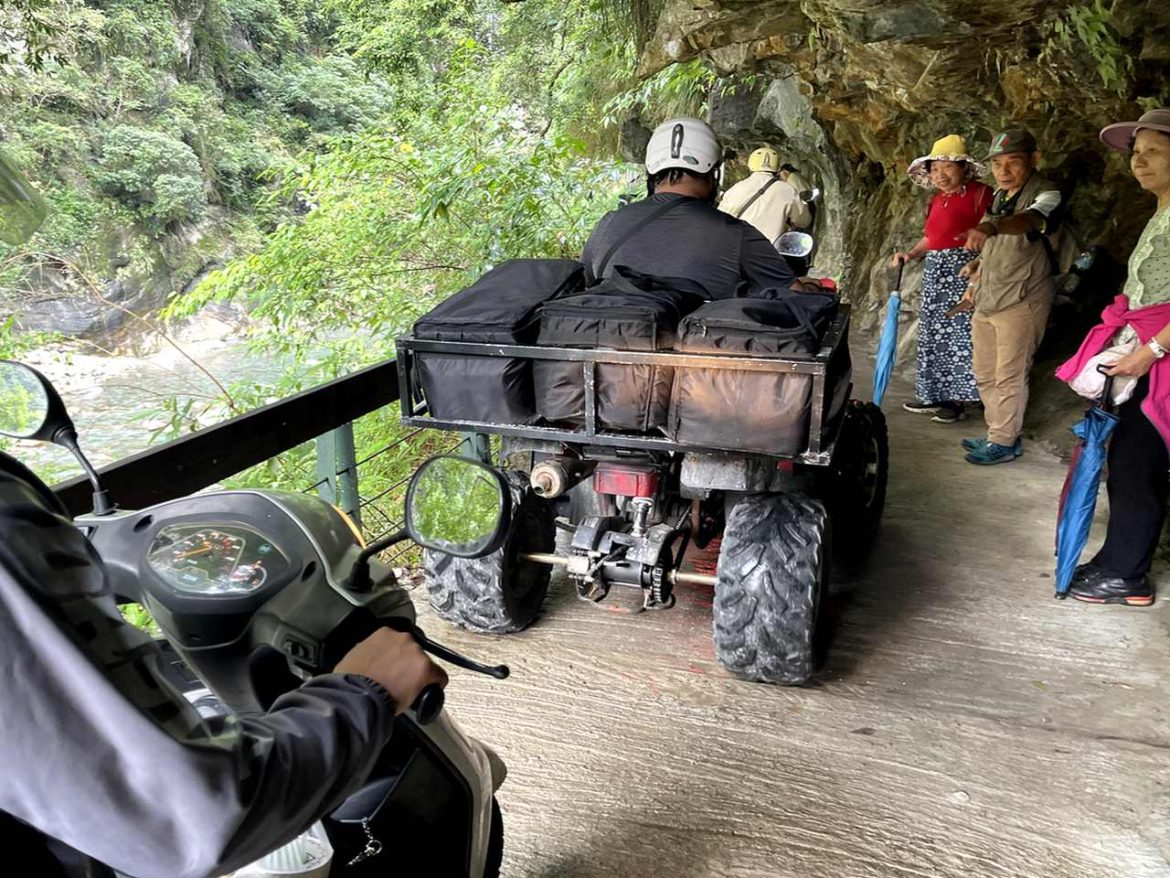 Taiwan is rich in natural attractions with nine national parks. For me, Taroko National Park is the top of the national park tree. It's a huge expanse spanning Taichung Municipality, Nantou County, and Hualien County and as I only had an afternoon I chose the easy walking Shakadang River Trail.
Those clear blue fast-flowing rivers hemmed by rocks and unfolding forests are so picturesque they could pass as a painting. Closing my eyes for a moment I could hear the soundscape of croaking frogs such as the Swinhoe frogs, and the song of birds such as Plumbeous Water Redstart that hang out on the riverbed. Unfortunately, I didn't spot much of the wildlife but occasionally a Taiwan Whistling Thrush in its distinctive blue livery made itself known.
Tip: Take binoculars.
The Shakadan trail passes through an aborigine reserve and some parts are still farmed by indigenous Tarok tribe members. They use this trail to transport their goods and at times it's quite a squeeze on the trail.
8. Taroko Restaurant
The only restaurant in the national park is in the Taroko village hotel run by members of the Taroko tribe. On the wall are images of the tribes painted or tattoed regalia on their faces and Taroko cuisine is served by waiters in costume.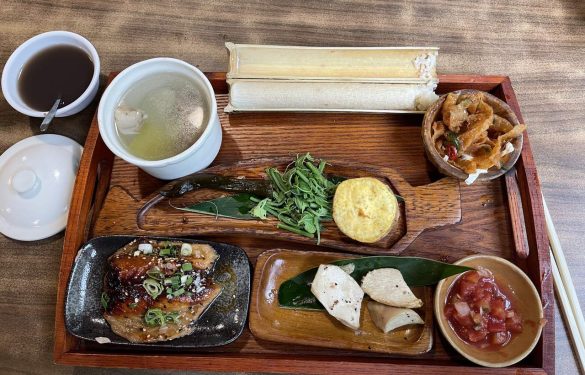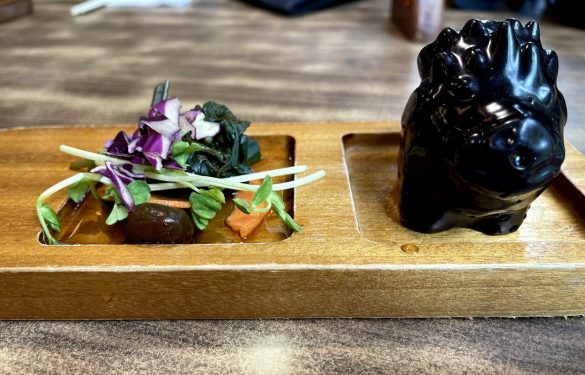 Dining habits are a little unusual. The "Appetising Millet Wine" is a side dish that involves "kissing the pig", which in reality is drinking fermented millet wine through the snort of a ceramic pig. For my main dish, I ordered the baked tilapia (fish) with soya sauce served with sticky rice served in a bamboo stick and fermented vegetables. The bean soup was the dessert.
9. Yehliu Geopark, Wanli
Sometimes a landscape can literally carve itself into something beautiful and even mimic life. This is true of Yehliu Geopark, a cape stretching 1,700 meters out from the town of Wanli into the sea. It is a mish-mash of rock shapes in hues of brown and tan created by thousands of years of geological movements.
There are claims of all sorts of recognisable shapes but the only ones I could clearly see were the Slippers, perhaps worn by the Queen whose head is visible. Her neck is becoming thinner and more fragile and they say she has only five years left – poor lass. So if you want to see her, get there soon.
10. Ximending, Wanhua District
Ximending is a pedestrianised shopping area in Taipei's Wanhua District served by the very busy Xiamen MRT station. After the quiet of Taiwan's nature, Ximending is overwhelming. The whole place was winking at me with flashing billboards and giant arrows showing the way. There's street entertainers, clubs, eateries and smart shops that call out as you pass while selfie-takers stop suddenly to pose.
Ximending is home to the largest LBGTQ districts in Taipei, so the bars are busy every night of the week all with generous Happy Hours.
11. Jioufen Old Street
The old gold mining town Jioufen, a seaside mountain area in Ruifang is often busy with tourists, but don't shy away. Jioufen Old Street is colourful, vibrant and very quaint.
The steep steps to the top are decorated with orange lanterns and at the top, you are rewarded with colourful souvenir and pottery shops, freshly made street food, tea houses, restaurants and plenty of winding alleyways to explore and taste the local delicacies.
A free freshly made sample of cooked taro root (a vegetable) was waved in my face, and though I loved its chewy texture and sweetness I didn't hang around as lunch beckoned at the Taiwan Sweet Potato Teahouse. Later I bought a peanut ice cream burrito that kept me energised as I walked through the alleyways.
12. The Yangmingshan Sulphur Springs
The geology of Taiwan just keeps on giving and this time it was the sulphur springs of the Datun Volcano Group. The volcanic activity led to geothermal heat which in turn created several hot springs and has done so in four regions: Yangmingshan, Beitou, Guanziling, and Sichongxi. 
There are several hiking trails but I went to see the rather pungent sulphur springs at Yangmingsham followed by a health-giving dip in various sulphur pools at the Yamingshan hot spring experience. 
FACT FILE
FLY: China Airlines has direct flights to Taipei
STAY:
Taipei: Home Hotel Xiniyi A pleasing homely hotel.
Taipei: Regent A gorgeous 5-star hotel in the centre. The magnificent fountain in front denotes prosperity.
Hualien: Lakeshore Hotel A family-friendly centrally-located 3-star hotel with elegant rooms.
EAT:
Din Tai Fung: Ground floor of Taipai 101 – Very busy restaurant serving freshly cooked Taiwanese dishes like crispy shrimp pancakes, steamed dumplings and beef noodles
Yang Shin Restaurant Zhongshan District, Taipei City – Delicious vegetarian and dim sum restaurant in 
Le Zinc Café & Bar, Datong District – take tea or wine
Taroko Village Hotel Restaurant, Taroko National Park – superb traditional cuisine of the Taroko tribe
Jioufen Teahouse, Jioufen – A selection of different teas ritually served to whet the palate
More info: Visit Taiwan Tourism website
Also read: Sunset over Taipei